From open to fully screened
at the touch of a button
HILO
The flexible office privacy screen
Relocating, reorganizing or simply looking to improve the possibilities of working effectively in the existing office environment?
The no-compromises office privacy screen HILO is designed down to the smallest detail to ensure increased productivity and job satisfaction at the office.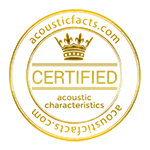 THIRD PARTY CERTIFICATION
Acoustic facts is a world leading expert in
interior acoustics. Acoustic data that has been certified, evaluated and broadcasted by Acoustic Facts gives credibility for the use of the product throughout the design process. Performing calculations with evaluated products imply safe design of
any room and satisfied end users.
HILO is a solid and well-designed piece of furniture built with care. With an internal depth of 108 centimeters, the entire work space around the individual is taken advantage of. Materials, filling and dimensions provide the best possible sound and visual impression shielding properties both behind the screen and good acoustics throughout the room.
The unique feature and uncompromising design combine the need for individual undisturbed work with the open office's collaborative benefits in a piece of furniture. HILO is easily reset from interaction and collaboration to 165 cm step-less sound-absorbed privacy at the touch of a button. Hilo is completely detached from the desk.
A well-functioning part of an activity-based office
Silent rooms, group rooms, and telephone booths are great, but sometimes they are just not enough and smaller offices may not have them at all. With HILO, your office will get a completely new kind of furniture grouping that completes the traditional, quieter parts of large offices or replaces them entirely in small, limited office environments.
HILO is also great for improving the parts of the activity based office that are situated next to elevators, stairs, cafeterias or toilets. Places where simpler partitioning isn't enough. Places where you need a more partitioned work environment but also need to be able to collaborate instantly without having to resort to time-consuming relocating.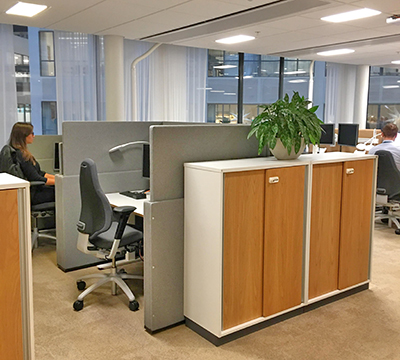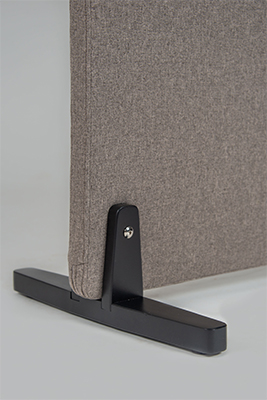 Customization of the work environment
– people are different
The same office environment can be experienced very differently. Extroverted personalities thrive in a completely open office environment.
Others require peace and quiet in order to feel good and to be able to perform. They are the ones who always seek out the quietest part of the office or the silent section, no matter which tasks they are working on. Sometimes our customers have chosen HILO as a solution for the individuals who need it the most.
HILO is also frequently chosen as part of the solution in rehabilitation programs.
ISO-tested sound absorbent
With 20 mm A-rated absorbent material of reused pet bottles on both sides of a 6 mm core of wood, HILO is both an efficient sound absorbent and sound screens, behind the screen and throughout the room.
See the test results here.
HILO on wheels:
Hilo is easily moved between premises, over thresholds and through doors from 90 cm wide on Mount's roller board. Order it with Hilo.